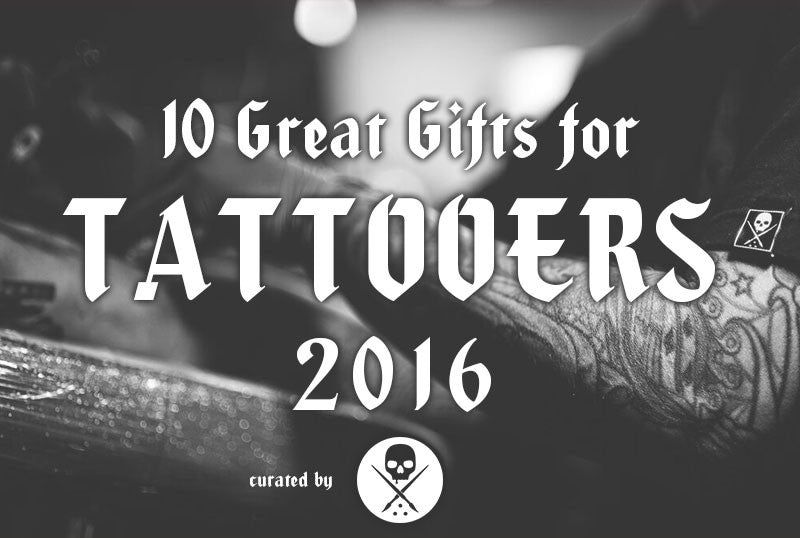 2016 Top 10 Gifts for Tattoo Artists
Holiday season is right around the corner so we figured if a tattoo artist was on your list we would give you a unfair advantage in the gifts department by selecting 10 items you may have never heard of that any tattooer would be thrilled to have. Gifts from $20-500 dollars round out our selections. Feel free to drop us a line if you need any help buying for the artist in your life.
10. S8 Red Stencil Paper
As a tattooer stencil paper has been a staple taking over acetate stencils used in tattooings beginnings. The S8 pigments are mineral and vegetable waxes which makes them safe for all skin types. Pair it with the S8 gel and the stencil will stay on as long as you need it to. I think any tattooer would be thrilled to give this paper a try if they don't already. A 100 unit box is $35.00 and can be purchased on the S8tattoo.com website.
9. The LVX Lighting System by Murran Billi 
If you want the very best lighting system available to tattooers the LVX is it. Developed by Murran Billi this light puts out an broad even light that any tattooer would die to work under. Being a internationally recognized artist Murran Billi has spent years on the road so he understands what the modern tattooer needs in a lighting system that's as efficient as it is mobile. $400 and the best lighting can be yours. Find it on Nikko Hurtado's website
8. Critical CX2-G2
You would be hard pressed to find a power supply more consistent than this bad boy. It's got a ton of features and really lays out consistent power. I've been using one for quite some time and it's been a work horse. You can buy the CX2-G2 for $250.00 from their website.
7. Sullen Tattooer Apron
Keep your clothes clean tattooing or painting with the Sullen Tattoo Apron. It features a clear pouch to access phone and/or media device. Any tattooer would be thrilled to have something that saved their pant legs from the eventual drop of ink or paint onto their pant leg...also the clear plastic sheet saves them from touching their phone with their dirty hands. You can grab one from our site any time for $19.99.
6. Intenze Signature Ink Sets
Whether you are a color tattooer or black and grey, we've got you covered. For the color realism crowd our good buddy and award winning tattooer Randy Engelhard put together a solid signature set of inks. If you know Randy you know that the guy works his ass off so this set is a extension of that. Randy Engelhard Signature Ink Set $350 However if you like the darker side then our brother Bob Tyrrell has you covered. Anyone who does black and grey will tell you value is everything. This 5 step set has all of those values covered. You can see from Bob's work that he has that on lock. Get this set today and get a leg up using this set. Bob Tyrrell Signature Ink Set
5. Saltwater Tattoo Stencil Pens
Tim Hendricks came up with a genius idea of putting stencil ink in a ball point pen. The brass pen comes in 7 different colors and  2 sizes, for those who do freehand work they are amazing. You can opt for the pen holder too if you need a little extra grip. Pick them up on Saltwater Tattoo's website. Starts $10
4. Sullen Blaq Paq - Ultimate Tattooer Travel Bag
The Blaq Paq is the premier tattooer travel bag, developed over 8 years ago the bag as evolved into the best solution for tattooers who work on the road. We spent 2 years developing every compartment of this bag and have tweaked it's design over the years through feedback given to us buy the artist who use it. You can find it on our website. You can find our whole line of Blaq Paq's here.
3. Beats Solo 2's
Every artist as some point needs to zone out to their favorite music. However it's best if that music isn't tethered to a cord that can get blood plasma on it. I use the Beat's Solo 2's every day to work and the range is quite impressive, I can work on the computer, make my way to the copier, hit up the drawing station and the headphones keep pumping out music. Amazon has these bad boys ready to ship prime for about $200.
2. Intenze single use ink caps
Intenze really proves their commitment to innovation in the tattoo world with their recently released single use ink caps. A little on the pricey side they make up for it in sterile work environment. These caps are perfect for travel and clean up with ease. Currently they are only available in 19 colors, they feature a sticky bottom and the ability to lock the caps together so they don't spill. This is probably the future of tattooing and Intenze just raised the bar. 
1. Cheyenne Hawk Pen
I'll be the first to admit, when this machine dropped I was a bit skeptical...but I've asked all the best artist who use this machine and they all swear by it. Why I chose to feature it at number one was due to the fact that this is in my opinion the most versatile machine you can buy. My black and grey friends love it as do my color realism, and traditional friends. Rare do you find a machine that can win over all styles with one tool. Cheyenne also pioneered the interchangeable needle technology and their needles are some of the best you can buy. This is really the ultimate gift any tattooer would love to try and at $650 there's no better way to say you love your artist. Pick a Hawk Pen up here.